S020 Luminaire
| | |
| --- | --- |
| Luminous flux: | 3800 lm, 7000 lm, 10000 lm, 14000 lm |
| Consumption: | 48 W, 78 W, 108 W, 160 W |
| Length: | 635 mm, 935 mm, 1235 mm, 1535 mm |
| Width: | 140 mm |
| Height: | 31 mm |
| Supply voltage: | 230 VAC +-20% |
| Ingress protection: | IP67 |
| Ambient temperature: | -20 to +50°C |
| Fluorescent tube lifetime: | 20 000 h |
| Ballast lifetime: | 50 000 h |
We provide volume discounts from 11 pcs, 101 pcs
Choose a variant
S020 24WX2/230R
Price without VAT

202.22

EUR
| Ordering code | Characteristics | Mounting |
| --- | --- | --- |
| S020 24WX2/230R | gland on right side | plastic clips |
S020 39WX2/230R
Price without VAT

231.49

EUR
| Ordering code | Characteristics | Mounting |
| --- | --- | --- |
| S020 39WX2/230R | gland on right side | plastic clips |
S020 54WX2/230R
Price without VAT

275.69

EUR
| Ordering code | Characteristics | Mounting |
| --- | --- | --- |
| S020 54WX2/230R | gland on right side | plastic clips |
Specifications - S020 Luminaire
Product description
S020 fluorescent luminaires are especially suitable for even lighting of larger areas. The luminaires of the S020 series consist of an extruded aluminum profile with plastic fronts, in which two T5 fluorescent lamps, a polished aluminum reflector, and electronic ballast are placed.
The profile is sealed with a polyurethane seal that withstands all known lubricating and cutting fluids. The front of the luminaire is covered with 4 mm thick tempered glass with exceptional resistance to breakage. Both side faces of the luminaire are equipped with threads for the M20x1.5 gland, so it is possible to choose the mounting of the gland on the left (L), on the right (R), or for the through the supply (LR). The connection terminal is hidden under the gland.
PARAMETERS:
| | | | |
| --- | --- | --- | --- |
| Fluorescent tubes | Luminous flux | Consumption | Length |
| 2 x 24 W | 3800 lm | 53 W | 635 mm |
| 2 x 39 W | 7000 lm | 87 W | 935 mm |
| 2 x 54 W | 10 000 lm | 120 W | 1235 mm |
| 2 x 80 W | 14 000 lm | 178 W | 1535 mm |
LUMINAIRE CONNECTION: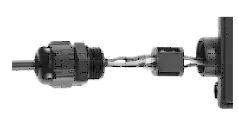 One face of the luminaire (or both faces in the case of the through power supply) is fitted with an M20x1.5 gland. The connection terminal is accessible after unscrewing the gland, sealed with an "O" ring. This makes connecting the luminaire to the power supply very quick and easy and does not require disassembly of the luminaire's sealing elements.
LUMINAIRE INSTALLATION: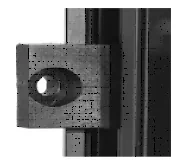 The luminaire is attached to the machine as standard with plastic clips inserted into the notch on the bottom of the luminaire. The clamps have a hole with a diameter of 5.1 mm and after mounting on the luminaire, the spacing of these holes is 142.5 mm. In the standard version, 4 pieces of these clips are included as part of the delivery. On request, the luminaire can be equipped with two articulated joint fixtures with the possibility of rotation in the range of +10 -60 degrees.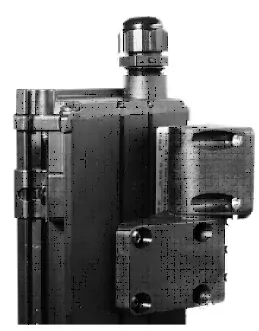 INSTALLATION RECOMMENDATIONS:
1) Mount the luminaire so that the cable gland is located at the lowest point.
2) The passage of the supply cable through the panel on which the luminaire is mounted should be lower than the gland of the luminaire.
3) If you use a cable with a metal braid, terminate the braid in front of the gland, apply a shrink tube over the end of the braid and insert only the center of the cable with the shrink tube into the gland. The metal braid would spill water into the luminaire despite the very well-tightened gland.

Download
Advantages
The aluminum profile allows excellent heat dissipation, thus preventing a reduction in life and efficiency
Low luminaire height of only 31 mm
Connecting the luminaire to the power supply without disassembling the luminaire and breaking its tightness
Flat glass has about 20 times higher resistance to breakage compared to the glass tube
S020 Dimensions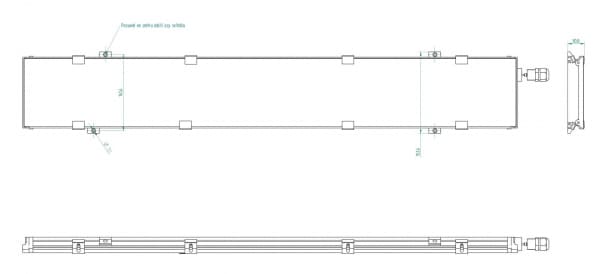 The product has been added to the cart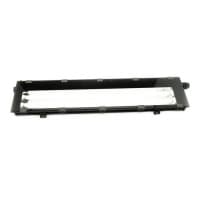 Flood machine lights S020 Luminaire
The aluminum profile allows excellent heat dissipation, thus preventing a reduction in life and efficiency Low luminaire height of only 31 mm Connecting the luminaire to the power supply without disassembling the luminaire and breaking its tightness Flat glass has about 20 times higher resistance to breakage compared to the glass tube
price without VAT
202

EUR