NewRefLED machine light with joint
| | |
| --- | --- |
| Supply voltage | 12 to 48V DC, 12 to 35 V AC |
| Consumption | 22 W |
| Light source | Cree CMT1922 Ra=80 |
| Luminous flux | 3500 lm |
| Minimal lifetime | 80 000 h |
| Ingress protection | IP69 (with switch IP67) |
| Ambient temperature | -20 to +50°C |
| Luminary body diameter | 97 mm |
| Luminary body length | 100 mm |
| Stand height | 46 mm |
| Joint length | 97 mm |
| Chromacity temperature | 5000K |
We provide volume discounts from 11 pcs, 101 pcs
Choose a variant
NewRefLED/KM1/40D
Price without VAT

220.89

EUR
| Ordering code | Characteristics |
| --- | --- |
| NewRefLED/KM1/40D | Outlet through the side gland |
NewRefLED/KM0/40D
Price without VAT

219.07

EUR
| Ordering code | Characteristics |
| --- | --- |
| NewRefLED/KM0/40D | Outlet through the bottom |
NewRefLED/RV7/KM1/40D
Price without VAT

227.30

EUR
| Ordering code | Characteristics |
| --- | --- |
| NewRefLED/RV7/KM1/40D | Outlet through the side gland, switch |
Specifications - NewRefLED machine light with joint
Product description
Industrial lighting of machines is important both from the point of view of production quality and from the point of view of work safety and requires the use of specialized machine lights. These lights are characterized by a high degree of ingress protection, a robust construction, and the ability to work with a safe voltage of 12 or 24V. The LED machine light NewRefLED 24V is suitable for local lighting of larger objects and we recommend it as a replacement for older halogen machine lights with an input of 150W. The NewRefLED machine light has proven itself excellently for lighting large machine tools such as gantry machining centers, large horizontal boring machines, and carousels, but also for larger presses and a number of other machines. This machine light is extremely suitable for the working area of machines equipped with high-pressure cooling or cooling through the center of the spindle. The NewRefLED 24V machine light with a joint has also proven itself as additional lighting for road and agricultural machines and tractors thanks to its all-metal, robust construction, and ability to work on both 12 and 24V voltage. The machine light body is made of an extruded aluminum profile and is equipped with one COB (Chip on Board) and completed with an aspherical glass lens with a 40° radiation angle. The LED machine light NewRefLED 24V in the version without a switch has protection IP69 (jetting water 100 bar) and in the version with a switch IP67.
Inside the machine light is a switched-mode power supply that supplies the LED with a constant current in the supply voltage range of 12 to 48 V DC or 12-35 V DC. If you do not have a low-voltage power supply on your machine, you can find suitable power supplies in the Accessories and spare parts section.
The LED machine light NewRefLED/KM2 is attached to the machine by a metal joint, located on a metal stand with four holes for screws. The cable outlet from the stand is either from the bottom or through the outlet on its side. The fastening can be supplemented with a switchable magnetic holder or a clamp on the board for an additional fee.
Download
Advantages
Machine light lifetime of at least 80,000 hours, no more bulb changes!
Replacement halogen machine light 150W
Minimal heating of the illuminated object
The high degree of ingress protection IP69 (jetting water 100 bar)
Good color rendering
Shock and vibration resistant
Consumption only 22W, payback compared to a 150W halogen machine light approx. 1 month (lights 16 hours a day)
NewRefLED machine light - stand - floor plan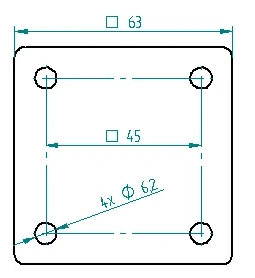 The product has been added to the cart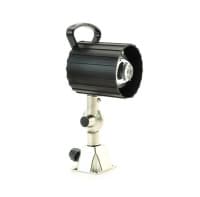 Spot machine lights 24V NewRefLED machine light with joint
Machine light lifetime of at least 80,000 hours, no more bulb changes! Replacement halogen machine light 150W Minimal heating of the illuminated object The high degree of ingress protection IP69 (jetting water 100 bar) Good color rendering Shock and vibration resistant Consumption only 22W, payback compared to a 150W halogen machine light approx. 1 month (lights 16 hours a day)
price without VAT
219

EUR