InLED 230V machine light with flexible hose
| | |
| --- | --- |
| Supply voltage | 230V AC +-20% |
| Consumption | 10 W |
| Light source | LED Cree XHP-50 Ra=80 |
| Luminous flux | 1500 lm |
| Minimal lifetime | 80 000 h |
| Ingress protection | IP67 |
| Ambient temperature | -20 to +50°C |
| Luminary body diameter | 70 mm |
| Luminary body length | 70 mm |
| Transformer housing height | 100 mm |
| Flexible tube length | 450 mm |
| Chromacity temperature | 5000K (different on request) |
We provide volume discounts from 11 pcs, 101 pcs
Choose a variant
InLED/RV7/HPS1/40D/TA
Price without VAT

193.28

EUR
| Ordering code | Characteristics | Beam angle |
| --- | --- | --- |
| InLED/RV7/HPS1/40D/TA | Outlet through the side gland, switch | 40° |
InLED/RV7/HPS1/16D/TA
Price without VAT

193.28

EUR
| Ordering code | Characteristics | Beam angle |
| --- | --- | --- |
| InLED/RV7/HPS1/16D/TA | Outlet through the side gland, switch | 16° |
InLED/RV7/HPS1/120D/TA
Price without VAT

193.28

EUR
| Ordering code | Characteristics | Beam angle |
| --- | --- | --- |
| InLED/RV7/HPS1/120D/TA | Outlet through the side gland, switch | 120° |
Specifications - InLED 230V machine light with flexible hose
Product description
Machine lighting is important both from the point of view of production quality and work safety and requires specialized machine lights. These lights are characterized by high ingress protection and robust construction. The LED machine light InLED 230V is suitable for local lighting of smaller objects, and we recommend it as a replacement for older halogen lights with an input of 50 to 75W. The InLED 230V machine light has proven itself excellently for lighting smaller machines such as conventional or NC drills, milling machines, and lathes, but it can also be used on presses and other machines. The body of the machine light is made of an extruded aluminum profile, fitted with one LED chip, and completed with an aspherical glass lens. The sealing of the InLED230V machine light guarantees an ingress protection degree of IP67 with a rocker switch on the head.
The InLED machine light can have lenses with apex angles of 16°, 40°, and 120°. Inside the machine light is a switched-mode power supply that supplies the LED with a constant current in the range of supply voltages 230V+-20%AC.
The InLED/HPS/230V LED machine light is attached to the machine by a flexible hose (flexible arm, gooseneck arm) of a standard length of 450 mm, anchored on a plastic cover with a transformer. The cover has three holes for mounting screws. The supply cable with the fork is brought out through the outlet on the side of the transformer cover.
We do not recommend using this machine light without another protection in close proximity to working welders and lasers, as their intense UV radiation can degrade the LED chip.
Download
Advantages
Machine light lifetime of at least 80,000 hours, no more bulb changes!
Replacement for 50W halogen machine light
Built-in power supply 230V
Minimum thermal effect on the illuminated object
With small luminaire dimensions, it can be placed close to the illuminated object.
Intuitive machine lamp positioning thanks to flexible hose
Good color rendering
Payback time two months (lighting 16h per day)
Transformer housing pattern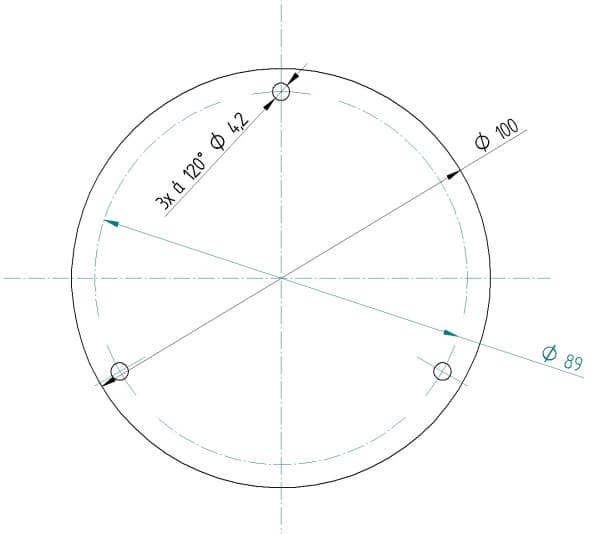 The product has been added to the cart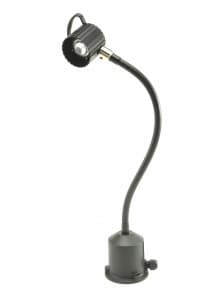 Spot machine lights 230V InLED 230V machine light with flexible hose
Machine light lifetime of at least 80,000 hours, no more bulb changes! Replacement for 50W halogen machine light Built-in power supply 230V Minimum thermal effect on the illuminated object With small luminaire dimensions, it can be placed close to the illuminated object. Intuitive machine lamp positioning thanks to flexible hose Good color rendering Payback time two months (lighting 16h per day)
price without VAT
193

EUR