NewRefLED machine light with joint
| | |
| --- | --- |
| Supply voltage | 12 to 48V DC, 12 to 35 V AC |
| Consumption | 22 W |
| Light source | Cree CMT1922 Ra=80 |
| Luminous flux | 3500 lm |
| Minimal lifetime | 80 000 h |
| Ingress protection | IP69 (with switch IP67) |
| Ambient temperature | -20 to +50°C |
| Luminary body diameter | 97 mm |
| Luminary body length | 100 mm |
| Stand height | 46 mm |
| Joint length | 97 mm |
| Chromacity temperature | 5000K |
We provide volume discounts from 11 pcs, 101 pcs
Choose a variant
NewRefLED/KM1/40D
Price without VAT

236.12

EUR
| Ordering code | Characteristics |
| --- | --- |
| NewRefLED/KM1/40D | Outlet through the side gland |
NewRefLED/KM0/40D
Price without VAT

234.18

EUR
| Ordering code | Characteristics |
| --- | --- |
| NewRefLED/KM0/40D | Outlet through the bottom |
NewRefLED/RV7/KM1/40D
Price without VAT

242.97

EUR
| Ordering code | Characteristics |
| --- | --- |
| NewRefLED/RV7/KM1/40D | Outlet through the side gland, switch |
Specifications - NewRefLED machine light with joint
Product description
The optimization of industrial machinery lighting holds a dual significance, intricately intertwined with both production quality and workplace safety. This intricate balance necessitates the utilization of specialized machine lights, distinguished by their robust construction, elevated ingress protection capabilities, and seamless operability within the secure voltage confines of 12 or 24 volts.
Meet the luminary champion, the NewRefLED 24V LED machine light, an embodiment of excellence tailored for illuminating expansive work areas. A beacon of innovation, it emerges as the perfect successor to outdated halogen machine lights devouring 150 watts of power. Unveiling its true potential, the NewRefLED illuminates larger-than-life machine tools, ranging from the grandeur of gantry machining centers to the stalwart presence of colossal horizontal boring machines and carousels. It is equally at home among larger presses and diverse machinery, seamlessly enhancing the scope of luminosity.
Stepping into the realm of precision, the NewRefLED 24V machine light gracefully conquers the challenging terrain of high-pressure cooling or spindle-centric cooling. Its adaptable brilliance extends beyond industrial confines, assuming the role of supplementary illumination for road-bound and agricultural giants like tractors and machines. An all-metal, robust construction fortified by the versatility of dual 12 and 24-volt operation encapsulates its prowess.
Crafted from an extruded aluminum profile, the machine light's body embraces a single COB (Chip on Board) entity, culminating in the radiance of an aspherical glass lens featuring a generous 40° radiation angle. The manifestation of these attributes unfurls within a dual-tiered protective enclave, IP69 for the switch-less iteration and IP67 for its switch-endowed counterpart—standing resilient against jetting water at 100 bar.
A switched-mode power supply is embedded within the machine light's core, serving as the lifeblood that sustains a constant current coursing through the LED. A voltage spectrum ranging from 12 to 48 volts DC or 12-35 volts DC seamlessly accommodates many operational scenarios. Even without a low-voltage power supply, the Accessories and spare parts domain beckons, housing suitable power supply solutions that ensure uninterrupted luminosity for machines of all kinds.
The LED machine light NewRefLED/KM2 is attached to the machine by a metal joint on a metal stand with four holes for screws. The cable outlet from the stand is either from the bottom or through the outlet on its side. The fastening can be supplemented with a switchable magnetic holder or a clamp on the board for an additional fee.
Download
Advantages
Machine light lifetime of at least 80,000 hours, no more bulb changes!
The high degree of ingress protection IP69 (jetting water 100 bar)
Shock and vibration resistant
Replacement for 150W halogen machine light
Minimum thermal effect on the illuminated object
Small luminaire dimensions, it can be placed close to the illuminated object
Robust joint with three-axis positioning
Good color rendering
Payback time 1 month (lighting 16h per day)
NewRefLED machine light - stand - floor plan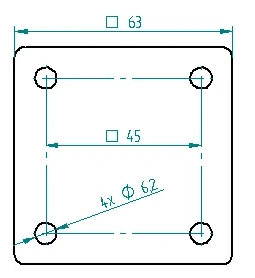 The product has been added to the cart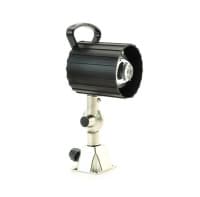 Spot machine lights 24V NewRefLED machine light with joint
Machine light lifetime of at least 80,000 hours, no more bulb changes! The high degree of ingress protection IP69 (jetting water 100 bar) Shock and vibration resistant Replacement for 150W halogen machine light Minimum thermal effect on the illuminated object Small luminaire dimensions, it can be placed close to the illuminated object Robust joint with three-axis positioning Good color rendering Payback time 1 month (lighting 16h per day)
price without VAT
234

EUR