NewRefLED machine light with joint arm
| | |
| --- | --- |
| Supply voltage | 12 to 48V DC, 12 to 35 V AC |
| Consumption | 22 W |
| Light source | Cree CMT1922 Ra=80 |
| Luminous flux | 3500 lm |
| Minimal lifetime | 80 000 h |
| Ingress protection | IP69 (with switch IP67) |
| Ambient temperature | -20 to +50°C |
| Luminary body diameter | 97 mm |
| Luminary body length | 100 mm |
| Stand height | 46 mm |
| Standard arm length | 400 mm |
| Chromacity temperature | 5000K |
We provide volume discounts from 11 pcs, 101 pcs
Choose a variant
NewRefLED/KX1/40D
Price without VAT

254.74

EUR
| Ordering code | Characteristics |
| --- | --- |
| NewRefLED/KX1/40D | Outlet through the side gland |
NewRefLED/KX0/40D
Price without VAT

252.80

EUR
| Ordering code | Characteristics |
| --- | --- |
| NewRefLED/KX0/40D | Outlet through the bottom |
NewRefLED/RV7/KX1/40D
Price without VAT

261.59

EUR
| Ordering code | Characteristics |
| --- | --- |
| NewRefLED/RV7/KX1/40D | Outlet through the side gland, switch |
Specifications - NewRefLED machine light with joint arm
Product description
In the intricate tapestry of industrial dynamics, the illumination of machines emerges as a pivotal nexus, intricately entwined with the realms of production quality and occupational well-being. This symbiotic interplay mandates the deployment of specialized machine lights, meticulously engineered to exude excellence through features like unyielding structural integrity, elevated ingress protection, and seamless compatibility with secure 12 or 24-volt voltage thresholds.
At the forefront of this luminous evolution stands the resplendent NewRefLED 24V LED machine light, a masterpiece poised to redefine workplace enlightenment. A fitting successor to antiquated halogen counterparts, devouring 150 watts, the NewRefLED rises as the harbinger of brilliant illumination. Its prowess extends seamlessly to grandeur, casting a radiant glow over expansive terrains hosting a range of colossal machinery, from the intricate intricacies of gantry machining centers to the monumental embrace of horizontal boring machines and carousels. This brilliance finds equal resonance among larger presses and an eclectic array of industrious apparatus.
The NewRefLED 24V machine light proves its mettle amid the crucible of high-pressure and spindle-centric cooling environments, illuminating efficiency pathways. Its resilience transcends the industrial realm, casting an adaptable glow upon the landscapes of road-bound giants and agricultural stalwarts. An all-metal, robust construction, fortified by the versatility of dual 12 and 24-volt operation, positions it as an illuminating beacon for both tractors and an array of mechanized wonders.
Forged from an extruded aluminum profile, the machine light's body cradles a single COB (Chip on Board) entity, culminating in the effulgence of an aspherical glass lens enveloped by a generous 40° radiation angle. In the realm of protection, a dual-tiered bastion emerges, with IP69 gracing the switch-less incarnation and IP67 adorning its switch-equipped counterpart—weathering the onslaught of jetting water at 100 bar with stoic resilience.
Nestled within the heart of this luminous virtuoso resides a switched-mode power supply, the silent conductor of constant current that breathes life into the LED. Spanning the gamut of voltage from 12 to 48 volts DC or 12-35 volts DC, this power supply architecture adapts seamlessly to diverse operational contexts. For those bereft of a low-voltage power supply, the sanctuary of Accessories and spare parts beckons, proffering pragmatic power solutions to ensure unceasing brilliance for machinery aplenty.
The NewRefLED/KX LED machine light is attached by a two-part articulated arm with a high braking force, which has a total of 5 degrees of freedom, allowing the lamp to be optimally directed. The arm is seated on a metal stand with four holes for mounting screws. The cable outlet from the stand is either from the bottom or through the outlet on its side. The fastening can be supplemented with a clamp on the board for an additional fee.
Download
Advantages
Machine light lifetime of at least 80,000 hours, no more changing bulbs!
Minimal heating of the illuminated object
Replacement halogen machine light 150W
The high degree of ingress protection IP69 (jetting water 100 bar)
Good color rendering
Shock and vibration resistant
Robust articulated arm with five-axis positioning
Payback time 1 month (lighting 16h per day)
NewRefLED machine light - stand - floor plan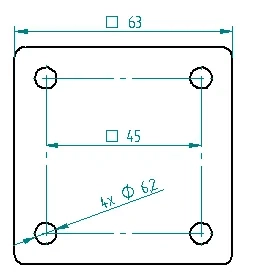 The product has been added to the cart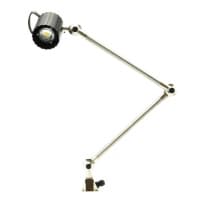 Spot machine lights 24V NewRefLED machine light with joint arm
Machine light lifetime of at least 80,000 hours, no more changing bulbs! Minimal heating of the illuminated object Replacement halogen machine light 150W The high degree of ingress protection IP69 (jetting water 100 bar) Good color rendering Shock and vibration resistant Robust articulated arm with five-axis positioning Payback time 1 month (lighting 16h per day)
price without VAT
253

EUR